Professional Tree Care & More in Little Rock
Best Tree Service in Little Rock AR: 501 Tree Services
Tree care services are needed for everything from trimming back overgrown trees to completely removing or moving them. Although tree removal is a last resort, it's necessary sometimes if the tree is diseased or has become hazardous. 
Some of these hazards include dead branches that pose risks by falling on people below and pests such as termites who gnaw at your beautiful healthy trees like they're made out of delicious Swiss cheese!
501 Tree Services can help you maintain safe, healthy trees with minimal fuss; we'll take any pesky problems away before they ruin another day!
However, the most fun tree service of all is making your trees beautiful again with pruning.
Tree pruning is a process that involves trimming branches and leaves from trees in order to maintain the health of the tree.
The goal of tree pruning is to improve air quality, provide shade, reduce storm damage, and improve the scenery on your property and its value. 
Tree pruning should be done at least once per year depending on how often storms hit and the size or your trees and property.
An arborist like 501 Tree Services should almost always be hired for this job because they have professional experience with all types of trees.
If you plan on doing your own tree pruning, make sure you know what type of Arkansas tree you are working with before starting the work
Stump Grinding and Removal
Stump grinding helps you get rid of unsightly stumps and roots.
Stump grinding is an environmentally friendly way to remove tree stumps that will leave them in a condition where they are safe for your yard.
Using stump grinders also reduces the risk of fires, as well as making your yard look better by removing unsightly tree stumps.
Tree topping is a popular technique used to remove branches from the tops of trees. This method can be done for many reasons, including aesthetics, safety issues or when removing dead limbs.
However, topping a tree can do more than one may realize – and it's not always recommended!
Drop crotching however, reduces the size of large trees while ensuring that their health and beauty remains intact; you don't want to have to pay for costly tree removal if your top-down trimming makes them go bad!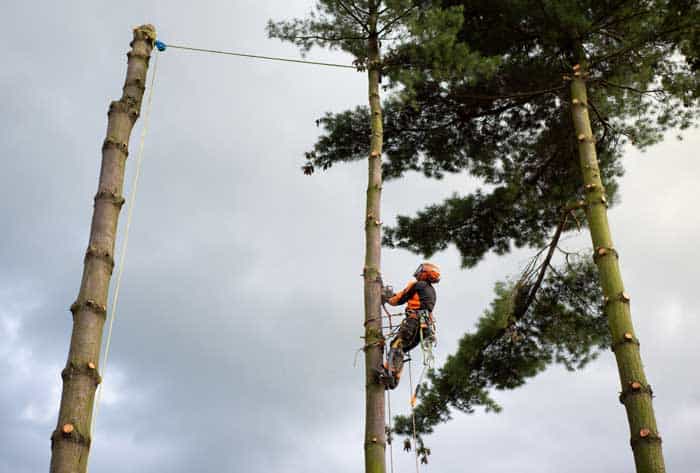 Tree removal is necessary when trees are diseased or dead. Additionally tree removal may be needed to make room for new construction or a pool.
And sometimes, you may have an invasive tree whose roots are damaging your home's foundation or other properties.
A professional arborist will be able to determine if a tree should be removed based on its condition and location in your yard.
In some cases you may want to move a tree. It is always best to outsource this dangerous for the tree and your life project.
Trees are literally, a beast to move!
Land clearing is a quick and inexpensive way to improve the view at your home.
This will make it more enjoyable to come home everyday as well as make your home retail ready for potential buyers or renters, now or later!
The investment in land and brush clearance can also help with safety by reducing fire hazards and keeping out unwanted pests like rodents or snakes that could harm pets on your property.
Clearing-land services are very affordable when compared to other options such as landscaping, pest control, etc., so this should be one of the first things homeowners think about doing to feel more, at home!
FREE ESTIMATES FOR ALL TREE SERVICES IN LITTLE ROCK ARKANSAS!
We're a full service tree care company serving Little Rock and all surrounding areas. We offer free estimates for any of our services, including Tree Removal, Stump Grinding, Pruning Services and more.
Call us today at (501) 300-TREE or fill out the form on this page to get started now!